Santa Maria Immacolata a Via Laurentina is a 20th century convent church at Via Laurentina 450, at the north-east corner of the EUR quarter and just north of the Laurentina metro station.
The dedication is to the Blessed Virgin Mary, under her aspect of the Immaculate Conception.
History
[
]
The church belongs to the Conventual Franciscans, who have a Conservatorio there for their Roman province.
The architect of the complex was Arnaldo Foschini, and it was completed in 1958.
Appearance
[
]
The edifice is in a rather stark, vaguely neo-Romanesque style built in red brick on a long rectangular plan parallel to the road. The roof is pitched shallowly and tiled, and there is a row of large rectangular windows below the eaves having matching geometric stone fenestration. There is a narrow string course connecting the bottoms of these windows. Otherwise, the red brick is undecorated.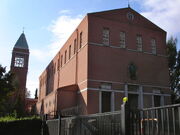 There is a prominent campanile attached to the roadside frontage with a steep pyramidal cap and large rectangular soundholes also having geometric patterned stone fenestration.
Liturgy
[
]
Apparently there is a public Mass on Saturdays at 17:00, in a "Charismatic renewal" style. This is an initiative of one of the friars, and so is liable to change.
External link
[
]