Churches of Rome Wiki is a community site that anyone can contribute to. Discover, share and add your knowledge!
Trending articles
Popular categories
View full main page
About the project
This Wiki is a guide to the churches of Rome. The aim is for each church to have a page, giving a historical outline as well as detailed notes on the architecture and artworks. Also, opening times, details of liturgical events and links to useful websites are provided.
All the churches in both the city (commune) and the Roman Catholic Diocese of Rome are included. The boundaries of these do not coincide, so here you will find some churches outside the city limits which belong to the Diocese, and conversely several which are in the city but belong to other dioceses
For those especially interested in the historical churches in the centre of Rome, there is a List of historic churches from which you can browse.
For information on modern churches and on those that have been demolished, see the List of Catholic churches.
As at 2015, every single Catholic church has a page. Catholic chapels with separate architectural identities or dedications are also covered. Regretfully, non-Catholic churches are a "Work in Progress".
All Wikis are, however, by definition works in progress. To learn how you can contribute and improve the Churches of Rome Wiki, see the Wikia tutorial.
We recommend the World Wikia for general travel information about places all over the world, including Italy and Rome.
The following websites are very useful, and links to them are in many pages: Diocesan websiteInfo.roma website Armellini's Chiese di RomaThe superb photo galleries of Alvaro de Alvariis
Covid-19 pandemic. As at April 2021, access to Roman churches remains very uncertain. Owing to this uncertainty, all church access and liturgical timetable notes in this Wiki should be regarded as in abeyance and should not be relied upon. Revision of these will have to wait until the end of the pandemic.
Featured article
Santa Maria Maggiore is a patriarchal basilica dedicated to the Blessed Virgin Mary. The basilica is also known as Basilica Liberiana after the founder, as Santa Maria della Neve (Our Lady of the Snow) after a miracle associated with it; and as Santa Maria ad Praesepem from the relic of the crib (presepio).
The first church here was founded in the 350's by Pope Liberius, and financed by a Roman patrician and his wife. They were childless, and had decided to leave their fortune to the Blessed Virgin. She appeared to them in a dream and told them to build a church in her honour. It lies on the summit of the Esquiline Hill, which was mainly laid out as gardens in ancient times. Legend claims that the plan of the church was outlined by a miraculous snowfall in August (possibly in 358). The legend is commemorated every year on 5 August, when white rose petals are dropped from the dome during the Mass.
Featured Media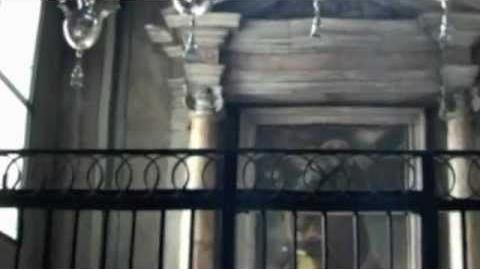 Finding your way
Related projects
The following Wikia and Wikimedia resources may also be of use:
Did you know…
that the Lateran Basilica was destroyed by fire twice, the second time before it had been completely rebuilt from the first?
that in 1479, there were enough Ethiopian Coptic monks in Rome that the Pope felt it proper to given them the church Santo Stefano degli Abissini?
that it took one and a half century to build Sant'Agostino?