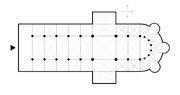 Basilica originally refers to a Roman building type, with a central nave and two side aisles. They were used mainly as courtrooms and audience halls.
When the first Christian cathedrals were built in the West, the basilica was seen as the most suitable type of building. The original basilical form can perhaps best be seen in San Paolo fuori le Mura.
The term basilica is also used about churches that have been granted a certain status. There are four major basilicas, or patriarchal basilicas, and a number or minor basilicas.
Community content is available under
CC-BY-SA
unless otherwise noted.